NSCG is Staffordshire's largest and most successful further education provider across its two campuses in Newcastle and Stafford. It's a centre for excellence where students and staff alike are encouraged to thrive, achieve and push the limits of their potential. Their recently awarded 'Outstanding' OFSTED status places them nationally as the first college and FE skills provider of any type to achieve this status. 
They approached Absolute to create a confident and ambitious student recruitment campaign. One which cuts through the noise of the education sector and positions the college head and shoulders above their competition. Their aim was to be known as the first choice college for students in the area.
As part of our creative process, we audited brand application, their previous student recruitment campaigns and undertook a tour of the Newcastle campus. Our initial review highlighted that the brand had become too convoluted over the years, with the use of additional graphical elements and overuse of a secondary colour palette. In our assessment, we felt that we needed to strip back all the extra elements and strengthen the original core brand.
As the campaign is predominately aimed at school leavers, we wanted to create a confident and empowering narrative that inspired future students. Our messaging focused on NSCG being the best starting point for any student, and that from there, they can do whatever they want to do, go wherever they want to go in life.
We wanted the campaign to be impactful, so we went back to the original core brand and elevated the key assets by using the vibrant colour palette with bold typography that highlighted our main campaign messages:- Ambition, Excellence, Extraordinary, Greatness and Success.
To keep the campaign authentic, we art directed high quality studio photography with students from the college. We wanted to make it more relatable by putting the students at the heart of the campaign.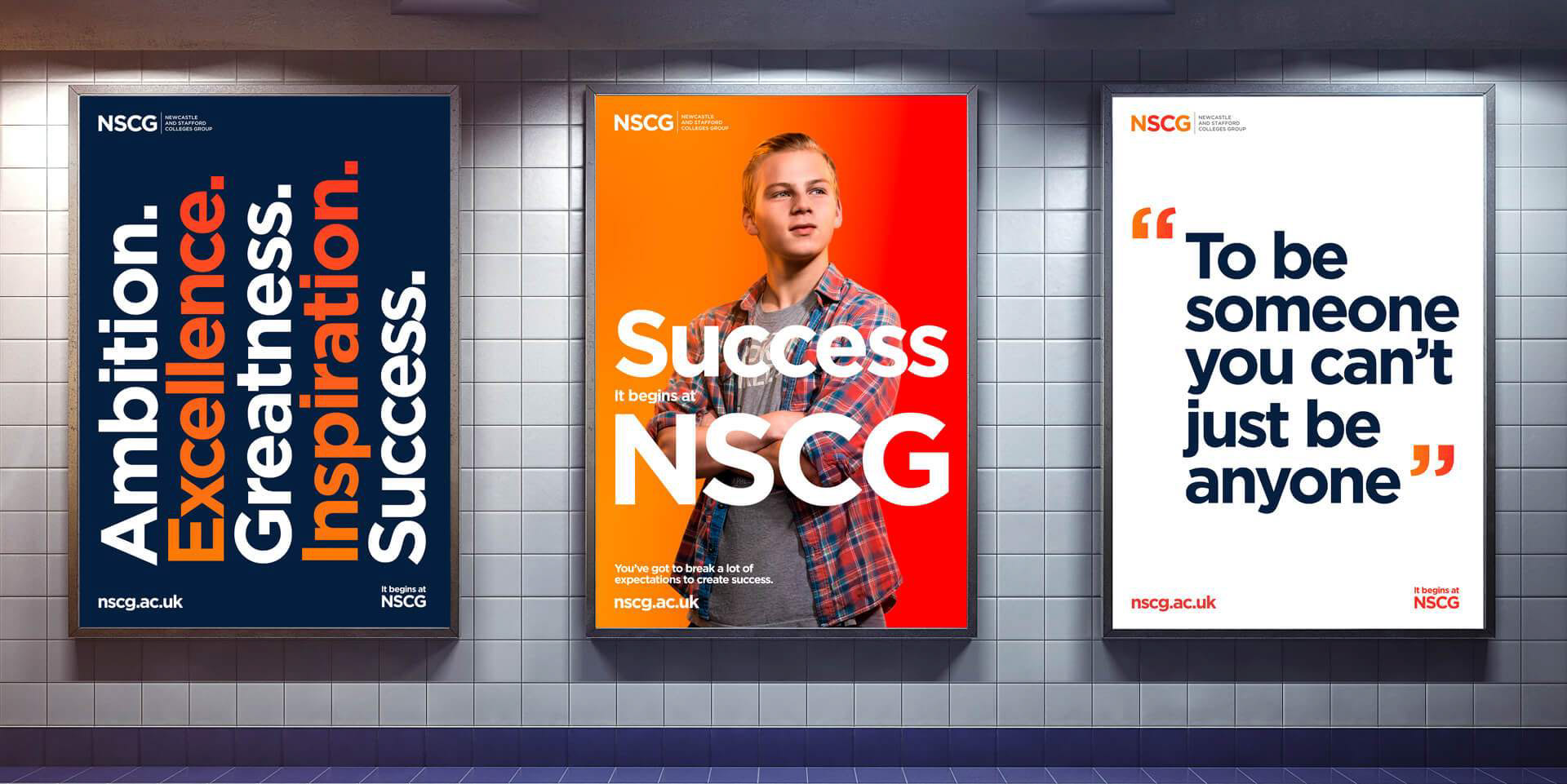 The campaign follows the NSCG student recruitment cycle with the rollout of a variety of print and digital communications, starting with the promotion of the campus open days. We also worked collaboratively with the marketing team to produce two prospectuses, one for each of the Newcastle and Stafford campuses.